65% Wild Boar
& British Turkey

Clinically Proven to
Freshen Breath & Reduce Plaque

Approved by Vets,
in the UK and Ireland

Added Peppermint reduces
Bacterial Attachment
treats to Keep bad Breath At Bay
Less smelly breath, better teeth, happier Harlan!
What Our Customers are Saying About Daily Dentals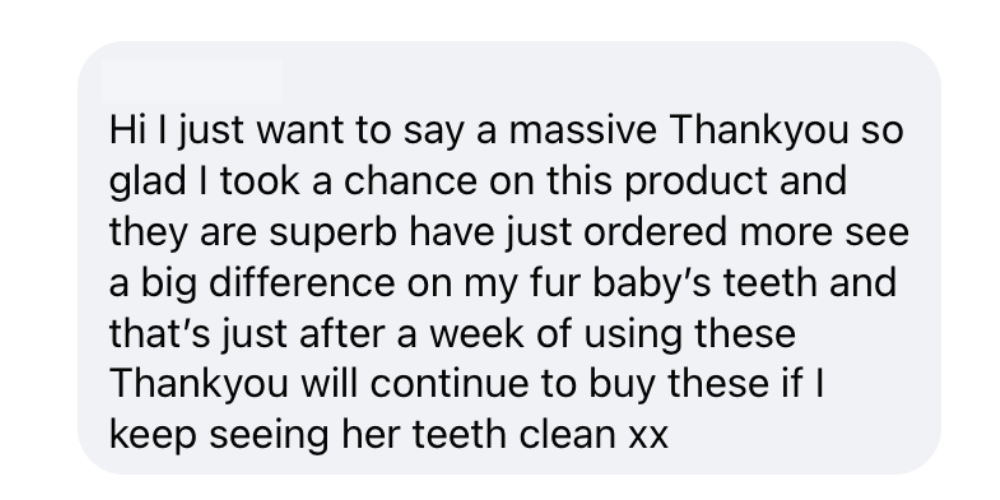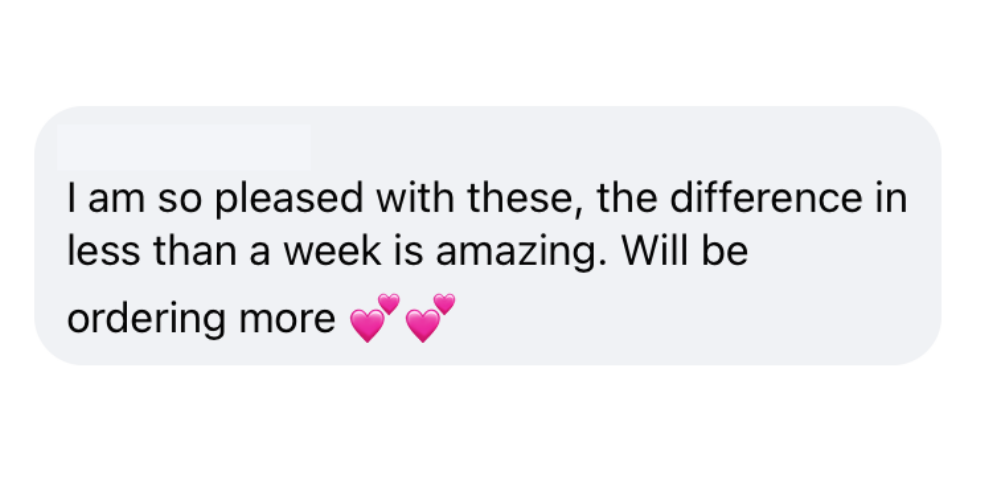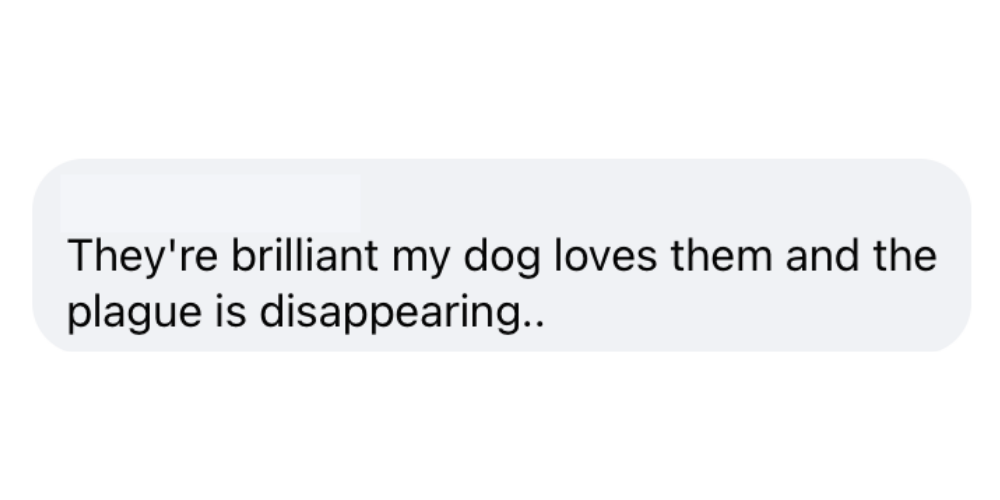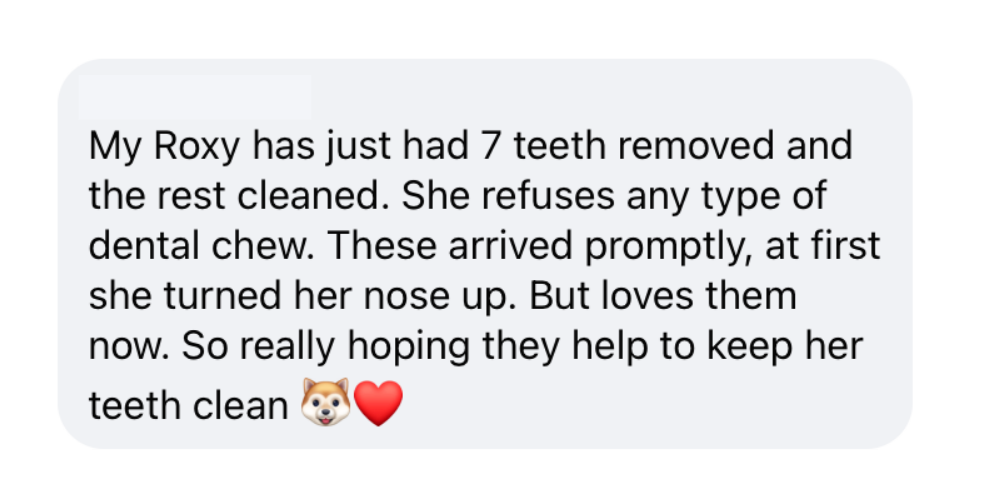 Your Questions, Answered.
Still have questions? Our nutrition team are here to help!
Simply call us at 0800 088 7965 or email hello@clydachfarm.co.uk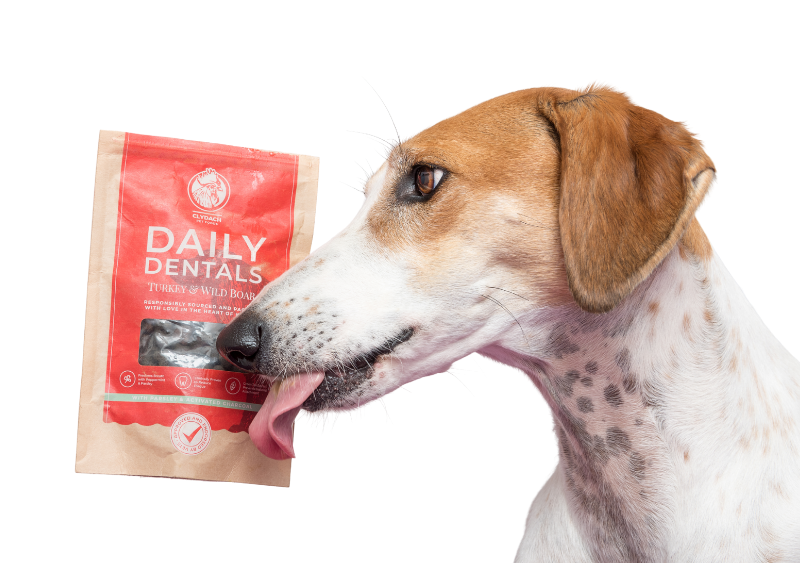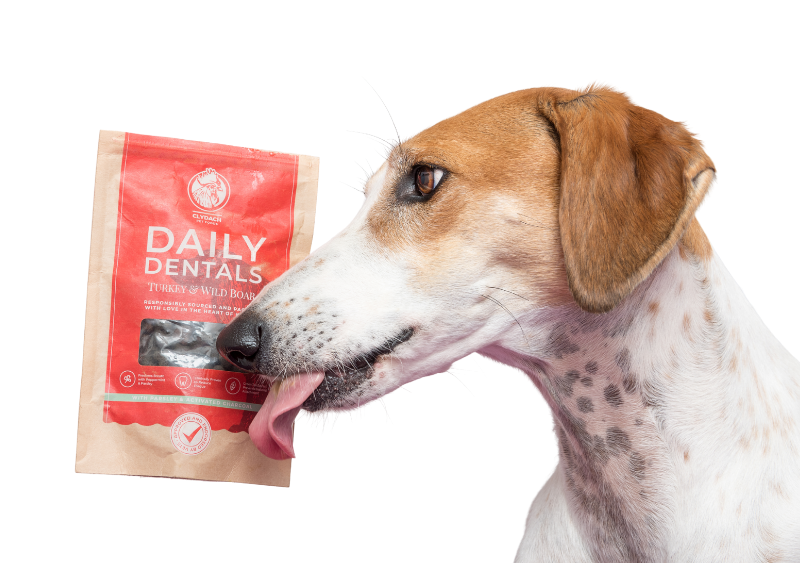 Are Daily Dentals safe for puppies?
We do not recommend feeding to puppies under 3 months old, as their teeth are still growing out.
Do I still need to manually brush my dog's teeth?
This formula is very effective at tackling hard to reach areas and provides your dog with optimum dental health. But we would still advise you to brush your dog's teeth as much as you can.
Why is Oral hygiene important to a dog's health?
Dental care is important to a dog's health because lack of dental care can lead to dental disease. Dental disease is a very common health issue, affecting 80% of dogs with groups with small breeds and senior dogs at the greatest risk. Dental disease includes any health issue affecting the mouth, including inflammation, tartar, gingivitis and periodontal disease. Since 2006, there has been a 23.3 percent rise in the prevalence of dental disease in dogs, with steady growth each year. Prevention early in life may help reduce the frequency and severity of dental disease later in a dog's life.
How many do I need to feed?
Daily Dentals are a treat, so you should feed them 'ad-lib' as a treat. That said, our research suggests optimum levels to feed to get the results you're looking for. Please look at the below table for the best feeding guidelines. If you're still unsure, please contact our Nutrition Team, we'd love to help!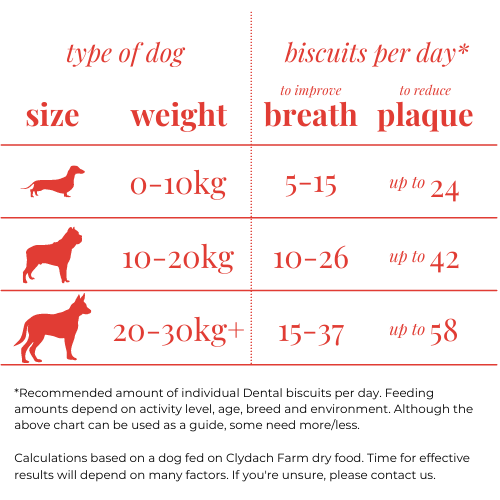 Our Daily Dentals are a hard biscuit. Unlike a chew, the crunch of the biscuit can support the activation of the active ingredients.
Are they a chew or biscuit?
Our Daily Dentals are a biscuit. Gently extruded at low temperatures. Our 'low and slow' technique enables us to lock in the goodness, whilst killing off any nasty bacteria.
We prefer a biscuit over a chew as they go further, offering better value for money.
We love Clydach Farm and their story, and Dallas thinks their ethically sourced British ingredients are pretty tasty too 🥩.
As vets, we come across so many different types of dog food and treats, but it's so refreshing to come across a sustainable brand that makes products with such high quality nutritional value!
P.S; brush your dog's teeth! (We know you won't 👀, so use Clydach Farm's Daily Dentals - they're clinically proven to reduce plaque and tartar build up🦷)
Two Vets in Yorkshire, UK.
Pet Parents to Dallas, German Wirehaired Pointer
Follow on Instagram, @whatdallasdoes